So since March I've lost 3st 7lbs, with Slimming World. It's a wonderful and supportive programme which is crammed full of common sense. It ISN'T a diet! I've never eaten as much, and I highly recommend it.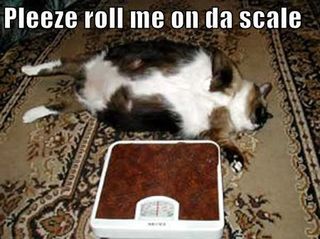 However at last night's weigh in my changed was 2lb - on not off! I know exactly where it has come from. Last week was very stressful and I had a throat that felt like it had been sandpapered so I medicated myself with a lot of ice cream and didn't follow the plan. Do I feel guilty, disappointed, let down? - hell no! It was one week. I know the plan works, it comes back off and I'm back on my way. I'm sat in jeans 3 sizes smaller than in March, when they wouldn't go past my thighs - now they are loose! And that's what I'm keeping in mind this Christmas.
I will be thoroughly enjoying the Christmas lunches/work parties, (where I will be partaking in all three courses don't you worry!) totally guilt free. Yes that's right GUILT FREE! Admittedly I won't be using the 'it's Christmas excuse' to buy in half of Tesco and make the house a mini Thorntons depot. I'll be having the usual yummy meals at home we've been enjoying all year but at dos and what not, I won't deny myself. I will be going to group each week over Christmas and there may be a bit of gain here and there over the festive period but it  will come off again. It's not the end of the world, it's Christmas!
What would be a disservice to myself would be to skip group and go with the 'I'll start again in January' mentality. That is just opening the floodgates. Before you know it you are chasing your tail - 'I'll try and lose it before I go back, I'll give myself another week', when actually if you went to group in the first place you'd probably discover you'd not put on half as much as you were imagining (or your dicky scales at home were reading). Being on a diet doesn't work! Hammering your body with pills and operations and God knows what doesn't answer the problems. Eating well, knowing your triggers and friendly support does.